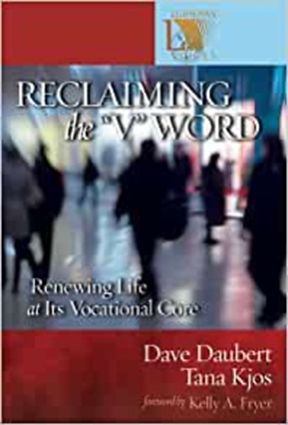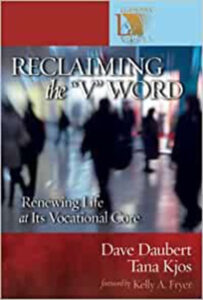 Join us as we read chapter by chapter the first half of Dave Daubert and Tana Kjos's Reclaiming the "V" Word: Renewing Life at Its Vocation Core. It's from the Lutheran Voices series from Augsburg. For the involved but slightly lost church go-er, this book is short, accessible, theologically sound, and provides a compass that helps in times of purpose-seeking: for lay leaders, rostered ministers, or anyone in between. Listen and discuss in this supportive small group as we hear God's promises (and dreams!) for us, and what comfort and challenge the Word is calling us to as we consider our vocations as Daubert and Kjos invite us through this book.
Participants are expected to have read the assigned chapters prior to the session to enable full participation in the discussion. Check with your church's library or local bookstores. The book is also available on Amazon and ebook through Google Books. Participants are responsible for securing a copy of the book.
Reading assignments:
1. The "V' [Vocation] Word Dilemma (10/4)
2. What is God Doing and How Can We Help? (10/11)
3. New Eyes for Old Stories (10/25)
4. Luther Looks at 1 Peter 2:4-10 (11/1)
Instructor:
Pastor Allison Siburg serves the congregation of Salem Lutheran Church in Fontanelle. She studied vocation at Luther Seminary, culminating in her thesis through her Master of Arts/Master of Divinity in Systematic Theology (2016), Trust and Relationship, Voice and Power, and Embodying Baptismal Call: The ELCA's Rule in Empowering Young Women in Vocational Discernment (2012). A pastor from the Pacific Northwest, she employs a good Confirmation object lesson with frisbees, enjoys conversation over coffee and attempts to keep up with her two kids and husband, Deacon Timothy Siburg who serves as the synod's Director for Mission, Innovation and Stewardship.
Format:
It's a conversation planned for Monday to help you focus on your journey in the week ahead.
Online using Zoom platform – Link will be sent with registration confirmation
Monday time as October 4, 11, 25 and November 1, 2021
12:00-1:00pm Central/11:00-12:00 Mountain
Course size – minimum 5
Costs:
Registration deadline – September 27, 2021
$10/person – Non-refundable Registration Fee
$15/person – Course Fee – Cancelation deadline – October 19,2021
Register Here – Registration deadline September 27, 2021
Contact: Deacon Sunni Richardson, Director for Leadership