News
Holy Week Ecumenism in North Platte
May 1, 2023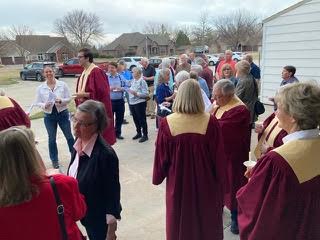 Submitted by: Pastor Patrick Sipes, PMA Emily McCreery, Pastor Anne Durboraw, Reverend Steve Meysing
"We need to do more of this" was the crowd's refrain as they departed the Easter Vigil. The crowd came from First Evangelical Lutheran Church ELCA, Messiah Lutheran Church ELCA, Episcopal Church of Our Savior, and First Presbyterian Church PCUSA in North Platte. The four churches made the journey with Christ from the Last Supper to the first Alleluia's of Easter by having combined worship services for Maundy Thursday, Good Friday, and Easter Vigil.
With very similar liturgies for these three days and all four churches being served by ELCA ministers, collaboration was rather easy. Over 110 people participated in Maundy Thursday at Church of Our Savior, using the Episcopal liturgy. There was even a line to have your feet washed! First Evangelical Lutheran hosted a meditative Good Friday service as the sun set through their transept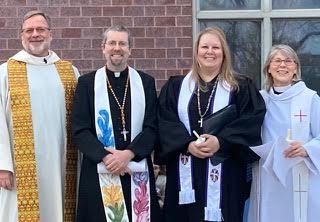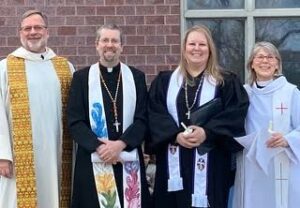 window of the crucifixion. At First Presbyterian Church we heard salvation history and renewed our baptismal promises during Easter Vigil. Inspiring music and singing by the worshippers lifted many hearts.
The collaboration was driven by a desire to recognize what our churches have in common, not just to have better-attended worship services. Altar guild members and musicians from each church enjoyed having a night or two to be worshipers instead of serving. The host church's minister was the celebrant while the homilist was from one of the other churches.
It was a spirit-filled and refreshing shared ministry. To worship with our brothers and sisters in Christ from other local congregations provided a sense of hope and renewal that might not have been achieved without this joint ministry. With Jesus Christ as the focal point, the four congregations are looking forward to worshiping and sharing ministry together in other ways in addition to The Three Days.