News
Faith Pioneer: Pastor E.A. Fogelstrom 
November 1, 2021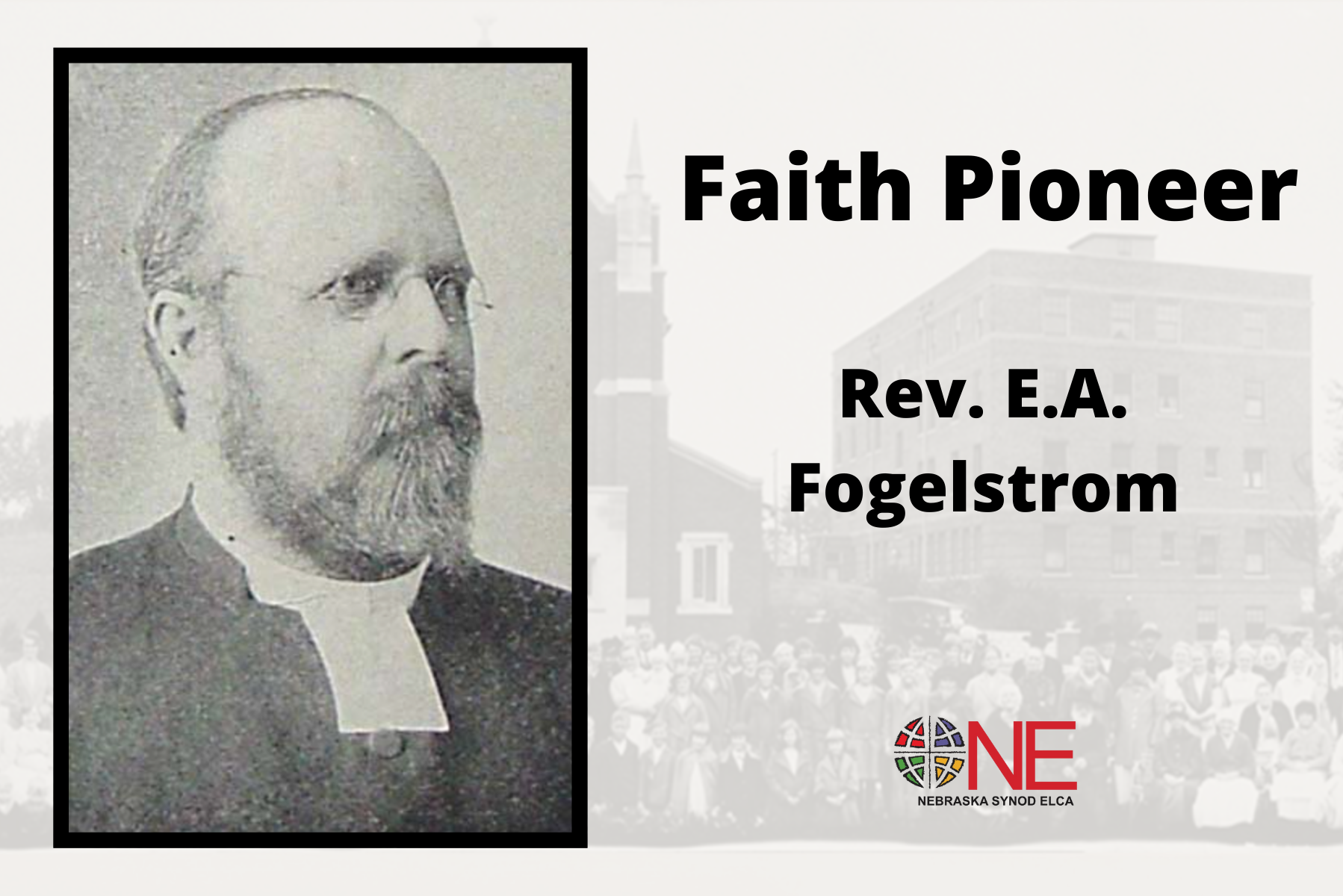 Early in the 150-year history of the Nebraska Synod, its members were busy not only founding congregations but free-standing ministries of care directly related to the church. Among the many faith pioneers who helped launch such ministries was Pastor E.A. Fogelstrom, who helped launch many such ministries, some of which continue to this day.
Born in Sweden, raised in a seafaring family and initially assuming he'd become a chaplain to sailors in New York, Pastor Fogelstrom was sent by the Augustana Synod (a precursor of the ELCA) to do mission work in land-locked Omaha, Nebraska. While there, he served a Swedish immigrant congregation. He arrived to a congregation in trouble with a disgruntled membership and growing debt. He got busy evangelizing and raising funds.
In spite of all that the congregational work demanded of him, Pastor Fogelstrom was sensitive to the human need all around him, especially the need for care. Over the course of time, Pastor Fogelstrom became instrumental in founding several ministries to provide just such care. Those ministries too faced challenges that he helped them address in persistent acts of faithfulness. A current history of Immanuel, a ministry founded by Pastor Fogelstrom that provides "Christ-centered care to seniors, one another and the community," offers this summary of that work: " Pastor Fogelstrom's selfless mission helped create the Immanuel Hospital; the Immanuel Deaconess Association; homes for orphaned children, the elderly and the mentally ill; a school of nursing; and a chapel. The work was not without hardships. In his personal journal, Pastor Fogelstrom wrote of the financial struggles the organization faced. Folklore stories tell of him selling his prized pocket watch to pay for programming, then buying it back when times got easier, only to sell it again and again through many more financial struggles."
In addition to the financial and organizational challenges he faced, Pastor Fogelstrom was at times publicly criticized for his support of social issues like prohibition, something he supported because of his concern for families touched by addiction. Still he persisted and we are heirs of his faithfulness. One story is told of his anxiety over the possibility of receiving a one million dollar gift, and his fear that it might negatively impact his ministries' mission. The gift never materialized, but today the Immanuel Vision Foundation, another direct descendant of Pastor Fogelstrom's work, grants more than a million dollars every year to the church through the Nebraska Synod, its congregations and its Serving Arms ministries—and gives another million to non-profit organizations across Nebraska and parts of Iowa; grant amounts that continue to grow each year. Immanuel itself serves over 2000 people through its ministries to seniors and the community. It's come a long way from the days when it relied on the repeated sale of one hardworking pastor's pocket watch to keep its doors open, but its core mission remains the same.
Could Pastor Fogelstrom ever have imagined how his tenacity and hard work would bless those in need of care, and the church and community as a whole? It's hard to tell, but his DNA and his commitment to faithfully pursuing mission for the sake of meeting human need remain alive and active in his descendants in faith—the mission, members and affiliated ministries of the Nebraska Synod. As we reflect on 150 years of history, we give thanks for such pioneers in the faith and for the heritage of mission we have inherited from them.