What's Next? Going Deeper- Embracing Stewardship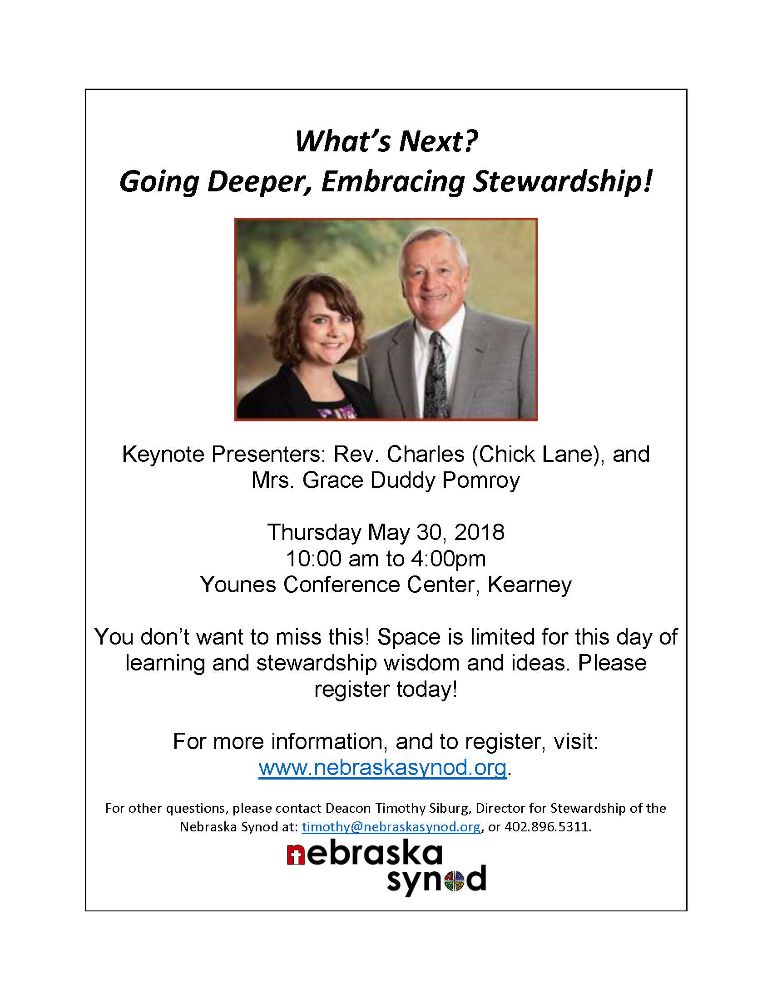 What's Next? Going Deeper, Embracing Stewardship!
Thursday May 30, 2019; 10am-4pm
Younes Conference Center; Kearney, Nebraska
What is stewardship? What might it look like in your context and faith community? What might be new and possible resources available to consider? How do pastors and lay leaders serve together as stewards and in leading stewardship ministries? What are new tools and strategies for offering? How might you evaluate your congregation's stewardship ministry effectiveness and needs?
If you have ever wondered any of these or similar questions, then there is an opportunity you don't want to miss. The Nebraska Synod is hosting a day long stewardship event on Thursday May 30, 2019 in Kearney, Nebraska entitled, "What's Next? Going Deeper, Embracing Stewardship!"
Keynote presenters will be Rev. Charles Lane, (author of Ask Thank Tell, and co-author of Embracing Stewardship- How to put stewardship at the HEART of your congregation's LIFE), and Grace Duddy Pomroy (author of "Stewards of God's Love," and co-author of Embracing Stewardship- How to put stewardship at the HEART of your congregation's LIFE). Nebraska Synod Director for Stewardship, Deacon Timothy Siburg, Nebraska Synod, will facilitate.
This will be a free and open to all pre-synod assembly event, made possible by the Nebraska Synod and a grant from the Stewardship of Life Institute . All you need to do in order to attend is to register here and then show up by 10am on May 30th. 
Registration will be limited on a first-come, first served basis to 120 participants. Registration is open to all rostered ministers, parish ministry associates, and lay congregational stewardship leaders of the Nebraska Synod. Special focus will be given for those serving in their first calls in ministry, as the synod has discerned an importance of equipping first call ministers around stewardship. This event will highlight a few pieces from the "Embracing Stewardship" event that was held in the Nebraska Synod in May 2018, but with largely include new and deeper content at the request and feedback of those who participated in 2018. Even if you did not attend the 2018 event, you are welcome and invited to attend and participate in 2019.
In terms of content this event will include presentations in large group workshop formats, a panel discussion time from practitioners offering perspectives of their own experiences with these concepts in ministry, and some "nuts and bolts" advice. To ground our day, a time of brief devotion will gather us in at the start of the day, and there will be a brief sending prayer and benediction to send everyone out at the end of the day as well. Lunch will be provided during the middle of the day.
Outcomes for the day include: an ability to articulate what is stewardship; greater understanding and tools for diversity of offering; a deeper understanding of the relationship between pastor and lay leader; the ability to evaluate your congregation's stewardship ministry; a deeper appreciation and understanding of stewardship in your context; and greater awareness and access to stewardship resources, mentoring, and advice.
The 2018 event filled up early, so please register in advance as registration will close once we reach 120 participants. If you have questions, please contact Deacon Timothy Siburg at: timothy@nebraskasynod.org or (402) 896-5311.