AMMPARO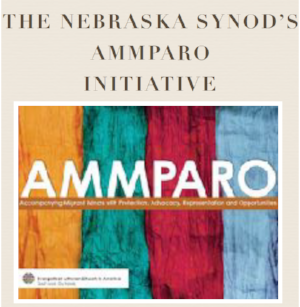 What is AMMPARO?
The word "amparo" in Spanish means the protection of a living creature from suffering or damage. The ELCA's strategy to Accompanying Migrant Minors with Protection, Advocacy, Representation and Opportunities (AMMPARO) was envisioned after witnessing the plight of children who are forced to flee their communities because of complex and interrelated reasons, including chronic violence, poverty, environmental displacement and lack of opportunities in El Salvador, Honduras and Guatemala. Due to our connection to companion churches in the region, including companion synod relationships, and existing ministries in the U.S., the ELCA is well-positioned to help ensure that these vulnerable children are protected.  
In a holistic, whole church response that connects international and US outcomes, the ELCA has developed this strategy based on the following commitments:
Uphold and guarantee basic human rights and safety of migrant children and their families;
Address the root causes of migration in countries from Central America's Northern Triangle and Mexico and the treatment of migrants in transit; 
Work toward just and humane policies affecting migrants in and outside the U.S.; and
Engage as a church body with all of its companions, affiliates and partners to respond to the migration situation and its causes and to advocate for migrant children and their families.  
As brothers and sisters in Christ, the ELCA is called to bear witness to the conditions affecting so many communities and to work to find solutions that will acknowledge the humanity in all of God's children. Join us in making a difference in the lives of vulnerable children and families.
The Nebraska/Western Iowa Synods' AMMPARO Task Force seeks to be a local partner with the national ELCA strategy to accompany migrant minors in the following ways:
Guardian Angels: The Guardian Angels program provides trained volunteers who accompany unaccompanied migrant children and single-parent families through their immigration court process, providing:
1. SPIRITUAL ACCOMPANIMENT – To provide spiritual support for them at court hearings
2. PHYSICAL ACCOMPANIMENT – To be a visible sign of the church in immigration court
3. COURT WATCH – To be present in court
4. RESOURCE SHARING – If requested, to provide information about local resources to assist migrants in their transition to life in the United States and to encourage families to obtain legal counsel.  We need more Welcoming Congregations in Nebraska and Iowa to be able to expand our resource opportunities!
Omaha is the location of the Immigration court for families living in all of Nebraska and Iowa.  Three Guardian Angels, at least one of whom speaks Spanish, visit the court on days minors have hearings, about three times per month, typically for 2-3 hours.  The Nebraska and Western Iowa Synod AMMPARO task force is offering a Guardian Angels training on February 1 from 9 AM to 12 PM at Iglesia Luterana San Andres at 4440 S 25thStreet in Omaha (registration link is below). 
Welcoming Congregations: Welcoming Congregations make a commitment to:
• welcome and minister to migrant guests and identify a contact person in the congregation who speaks enough Spanish for basic communication;
• attend occasional meetings of the Welcoming Congregations Network near you for mutual support, fellowship and training;
• participate in conference calls to be updated on the current situation of migration of children and families and receive policy updates; and
• advocate for public policy that will positively impact the current immigration crisis – including working in partnership with the ELCA Washington Office and Lutheran Immigration and Refugee Service on immigration reform.
For more information, download the worksheet to become a Welcoming Congregation below.  As this is a national effort, also contact Mary Campbell, AMMPARO convener, at mary.campbell@elca.org.
For additional resources, go to www.elca.org/ammparo.
If you have further questions, please contact Tyler Darnell, Nebraska Synod Evangelist, at tyler@nebraskasynod.org.