Tanzania Ministries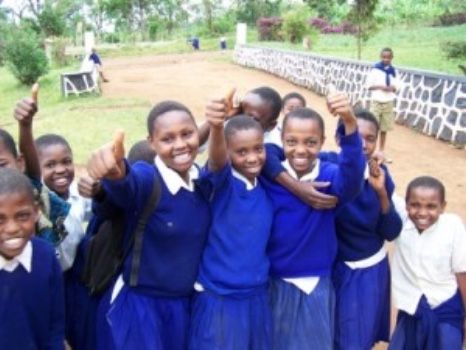 As Christians, we are not fully one holy and catholic church without a global perspective. Our companion relationship enlarges our world view. Global connections help us see the world's challenges in a new way and examine our own problems and joys through new eyes. These connections also strengthen God's mission in the world.
Below are many ways in which you can learn more about the ministries we share with our neighbors in Tanzania.
Companion Congregations
Congregations play an important part in the companion synod program. An important dimension of the ministry that happens between the Northern Diocese and Nebraska Synod is rooted in the prayers and support from local congregations and the faith connections between brothers and sisters in Christ. Several congregations have entered into congregation-to-congregation relationships. They involve the sharing of faith and gifts through prayer, communication, visits and assistance.
These relationships (1) provide an expanded view of the Body of Christ, (2) broaden the vision of the church's mission and are tangible signs of that mission, and (3) provide opportunities to build personal relationships with Christians in another culture.
Houses for Health
For the very poor of Tanzania, poverty leads to bad health, and bad health leads to poverty – a vicious downward spiral. This is particularly true of those living with HIV/AIDS. There is some good news in that many of the AIDS sufferers in Tanzania are now able to receive the medicines needed to help keep them alive. However, people are living in such substandard housing (even by Tanzanian standards) that their health and even their lives are further threatened. Despite the medicine, it is not easy to survive AIDS, tuberculosis and more if you are wet, cold, and sleeping in the mud or dust.
Houses for Health builds homes for those with severe health problems that are further threatened by their seriously substandard living situation, those who are extremely poor, and especially those whose death would leave behind more orphans. Approximately 75 percent of recipients have HIV as a base health issue, but homes have been built for those with orthopedic, mental health and a wide range of health challenges.
The houses are typical, very modest two-room homes that provide a better quality of living through protection from the elements. Through better housing, people have the promise of better health. The houses are built using 100 percent local labor and 99-plus percent local materials and are a boost to the local economy. Depending on the site and the weather, a house can be built in as few as five or six weeks. The cost for building a House for Health is approximately $3,500.
The Nebraska Synod is partnered with Alegent Health to deliver this ministry program onsite in Tanzania.
Nursing Scholarship Program
The Tanzanian Nursing Scholarship Program is focused on providing scholarship support to students attending the Machame Lutheran School of Nursing ($1,700 per year year covers everything: all school fees and room and board).
Africa is facing a severe shortage of health workers. Tanzania has only four nurses per 10,000 population as compared to more than 80 nurses per 10,000 population in the United States. Rewarding positions with good pay are available in Tanzania for nursing graduates, especially in Tanzania's church-related hospitals.
Pastor Exchange Program
The Nebraska Synod and Northern Diocese regularly host pastor exchanges. These six-week exchanges allow participants (pastors and congregations) a tremendous opportunity to learn about each other's culture and ministry. Moreover, the exchanges provide congregations a chance receive the gifts of someone who comes from another culture.
Typically, the Synod Global Mission Committee will select one pastor from our synod to serve in Tanzania while their Tanzanian counterpart serves in the Nebraska Synod congregation. Generally, the cost of participating in the exchange program is approximately $6,000, which is usually split between the Synod Global Mission Committee, the local Synod congregation and the pastor.
The Synod will make an announcement when the next pastor exchange opportunity becomes available.
Textbooks for Tanzania
Tanzania has put education at the center of its National Strategy for Growth and Reduction of Poverty with the aim of ensuring equitable access to quality primary and secondary education for boys and girls, universal literacy among women and men; and the expansion of higher, technical and vocation education.
Textbooks for Tanzania is a Nebraska Synod-based project directed at providing valuable learning resources. Working closely with Tanzanian secondary educational leaders in the Northern Diocese of the Evangelical Lutheran Church in Tanzania, the Textbooks for Tanzania project seeks to equip Tanzanian classrooms with necessary up-to-date textbooks to contribute toward improved learning outcomes. Each gift of $10 places a desperately needed book in a Tanzania classroom.
Trees for Tanzania
Even if you have never visited Tanzania, you have probably seen pictures of Africa's highest mountain, Kilimanjaro. It is a mountain of great beauty, and its waters directly support the lives of many thousands of people who live on the slopes and the lands nearby. It is a mountain in crisis. In the last 100 years the glaciers of Kilimanjaro have shrunk by 92 percent. At the current rate of snow loss, it is predicted that the snowcap could be gone completely as soon as 2020.
This is a critical issue for the people who rely on the waters of Kilimanjaro for survival. The Northern Diocese has made tree restoration a high priority project. The deforestation of Kilimanjaro and the surrounding area, which has been going on for decades, is considered a major driver of increased heat and reduced moisture on the mountain.
Money is needed to help support the sapling nurseries. These nurseries employ local people, creating a secondary benefit. The Diocese estimates that $1 US can provide two saplings. The goal is to provide enough saplings for every confirmation student to plant 10 trees per year. This equates to roughly 160,000 trees annually from just this source.
Staff & Ministry Contacts:
Administrator for Finance & Development