Lutheran World Relief Ingathering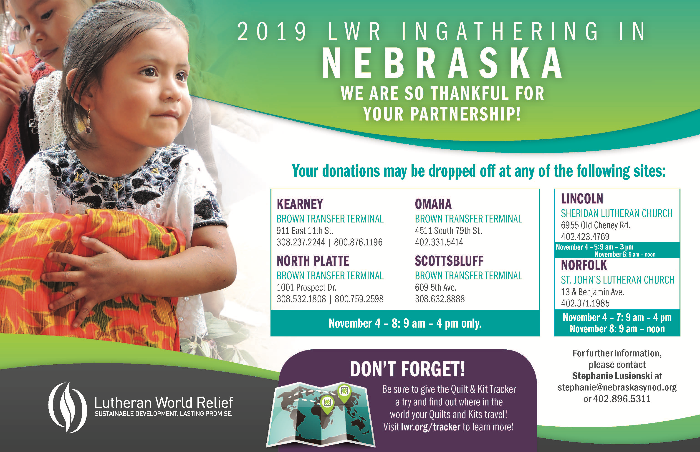 The 2019 Lutheran World Relief Ingathering will be held Monday, Nov. 4 through Friday, Nov. 8. Hours for drop off sites vary. Please see locations and details below.
All, over the United States, Lutherans reach out to those in need overseas through Lutheran World Relief's Quilt & Kit Ministry. Congregations, students and groups of all types who gather quilts and kits for LWR make a lasting diff erence in the lives of our neighbors around the world. In 2019, your gifts of love reached out to people all over the world. You provided opportunities for education for children from Honduras to Zimbabwe to Syria; gave hope to refugees in Mauritania, Bosnia, and Iraq; and comfort to displaced families in Haiti and Dominica.
Items accepted
Quilts, fleece tied blankets, school kits, personal care kits, baby care kits and fabric kits.
For full details and guidelines, click here.
THANK YOU! Your generous gifts of quilts and kits help to ensure that LWR is able to respond to the continuing and increasing needs of our neighbors overseas.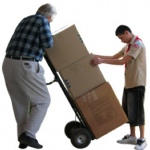 Packing notes
Forty pound limit per box.
Please use strong cartons secured with packing tape.
Label boxes clearly in large, block letters with the contents and name and address of your congregation.
Do not mix items; boxes should be all quilts, all fabric kits, etc.
LWR continues to offer a tool that will allow you to track where in the world your quilts and kits travel. Visit lwr.org/tracker to learn more.
Specific assembly guidelines for the projects are available online at lwr.org/kits or by requesting a free Quilt and Kit Ministry Guide at lwr.org/resources or 800-597-5972.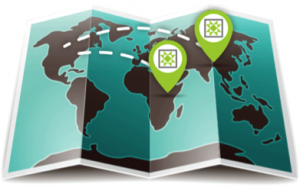 Locations
This year's donation drop-off sites are as follows:
KEARNEY BROWN TRANSFER TERMINAL- 911 East 11th St. 308.237.2244 | 800.876.1196. Hours: 9am- 4pm (11/4-11/8).
NORTH PLATTE BROWN TRANSFER TERMINAL- 1001 Prospect Dr. 308.532.1808 | 800.759.2598. Hours: 9am- 4pm (11/4-11/8).
OMAHA BROWN TRANSFER TERMINAL- 4511 South 79th St. 402.331.5414. Hours: 9am- 4pm (11/4-11/8).
SCOTTSBLUFF BROWN TRANSFER TERMINAL- 609 5th Ave. 308.632.8888. Hours: 9am- 4pm (11/4-11/8).
LINCOLN SHERIDAN LUTHERAN CHURCH- 6955 Old Cheney Rd. 402.423.4769. Hours: 9 AM - 3 PM (11/4-11/5). 9 AM - 12 PM (11/6).
NORFOLK ST. JOHN'S LUTHERAN CHURCH- 13 & Benjamin Ave. 402.371.1985. Hours: 9am- 4pm (11/4-11/7) & 9am- noon (11/8).  
Barcode label instructions are available at lwr.org/tracker.
Staff Contact:
Administrator for Finance & Development