ELCA Youth Gathering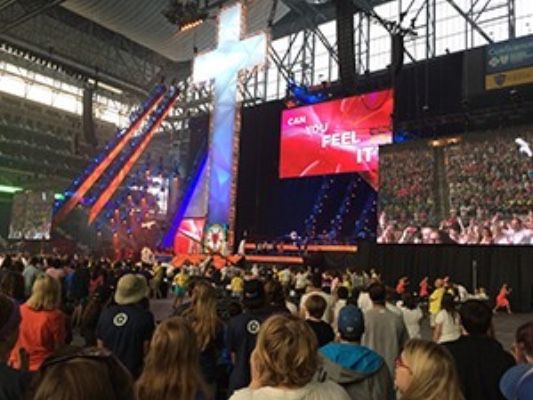 Every three years, the ELCA Youth Gathering is held. In July 2018, more than 30,000 high school youth and their adult leaders from all over the world attended the Gathering in Houston. Of those, over 800 of the people in attendance were from more than 60 congregations of the Nebraska Synod.
After much prayer and consideration, the ELCA Youth Gathering planners decided to postpone the 2021 ELCA Youth Gathering to the summer of 2022 due to the COVID-19 pandemic.
The 2022 ELCA Youth Gathering will be held July 24-28, 2022, in Minneapolis, with the two pre-events, the Multicultural Youth Leadership Event (MYLE) and the tAble, scheduled for July 21-24, 2022.
Thank you for your prayers and patience as planners have worked through the details with their partners in Minneapolis and across the country. They hope that by postponing the Gathering for a year, individuals and congregations will feel more comfortable and prepared to attend the Gathering in 2022.
You can learn more at the Gathering's website, and their Facebook page.  The Nebraska Synod at the ELCA Youth Gathering also has a Facebook page.
Links
Staff & Ministry Contacts:
Director of Faith Formation

Gathering Synod Coordinator