Middle School Gathering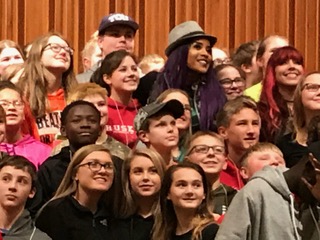 The Middle School Gathering is a highly interactive experience for youth in grades 6-8 and their adult leaders.  Each year, the Middle School Gathering is held on the Saturday and Sunday immediately before Martin Lutheran King, Jr. Day.  The ministry event lasts about 28 hours, but the memories last a lifetime.
Why does the Middle School Gathering happen?  The group of adult leaders who help plan the MSG recently answered that question with these statements:
·       "Relationships are built, and it's important to have good, healthy relationships during the middle school years."
·       "It connects young people with young people across the state."
·       "The young people get to meet others who love God."
·       "It's like a mini ELCA Youth Gathering.  Some of our middle school youth don't know how big the church is."
·       "It's good for smaller churches without a large middle school ministry."
·       "The MSG opens eyes to what is done outside their own congregations.  They can have new experiences and learn new ideas."
The 2019 Nebraska Synod Middle School Gathering was held at First Lutheran Church in Kearney.  Participants worshiped, sang, serve, ate and had fun together as they explored the theme "Rooted" and Colossians 2:6-7.  This year's guest artists were musician AGAPE* and spoken word poet Joe Davis.  Stay connected with the Middle School Gathering throughout the year on its Facebook page.
Please save the date for the next Middle School Gathering.  It will be held January 11-12, 2020 at a location to be determined.  When more information is available, it will be posted here.  
Forms & Links
Staff & Ministry Contacts:
Director of Faith Formation