Lutheran Youth of Nebraska (LYON)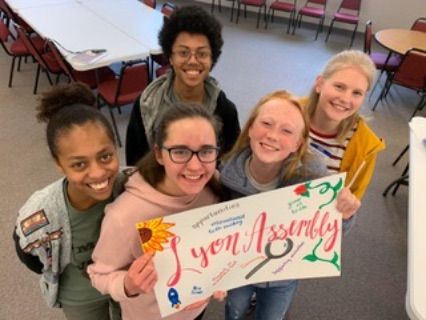 LYON stands for Lutheran Youth of Nebraska, and each year the LYON Assembly is held the weekend before Thanksgiving. All youth in grades 9-12 and their adult leaders are welcome.
Why do we get together as LYON each year? We asked the group of youth that plans the LYON Assembly, the LYON Leadership Team, that question, and this is what they said:
"To connect to each other and God."
"To have opportunities for intentional faith building."
"To support each other."
"To grow in faith."
This year's LYON Assembly will be held ONLINE on November 21 and 22, 2020, and youth in grades 9-12 and their adult leaders are invited to participate.  The theme will be God with US, and we'll focus on Isaiah 43:1b-4.  LYON Assembly weekend will feature artist Joe Davis, who is no stranger to Nebraska, having been at the Synod's Middle School Gathering in Kearney in 2019 and The Heart's Journey in Omaha in 2017.  Large group and small group sessions will be online. There will also be materials shipped to congregations to distribute to their participants for prayer practices, devotions and service learning projects that will be designed for personal use.  A congregation may choose to do some components in their own face-to-face setting if they can safely gather to do so.  Because travel, housing and meals are not components of the LYON Assembly this year, we hope the reduced cost and change in time-related factors will allow even more people to participate!
Registration Rates & Information:
·       Early bird (submitted on or before October 9):  $20
·       Regular registration (submitted October 10-October 23):  $25
·       Late registration (submitted October 24-30):  $30
·       Please register your group when you know who will attend, as we cannot accept placeholder names as a registration (for example, "Youth 1" or "Adult 2") in order to qualify for early bird or regular registration rates.
·       If they can do so safely, each congregation may choose to gather face-to-face in their own setting for viewing the online portions of LYON Assembly together, sharing devotions, etc.  In order to ensure the safety of all involved, please note:
o   It is highly recommended that there be a minimum two adult leaders with your group at all times.
o   Participants will share emergency contact information, special needs and a medical and photo release on their registration forms.
o   Each adult leader will complete and submit a Volunteer Screening Form. 
Steps to Register:
1)     Have EACH youth and adult participant complete a Registration Form.
2)     The primary adult leader should use the registration forms to complete registration online.
3)     Registration fees must be paid online with a credit card when your congregation registers.
4)     Each ADULT participant must complete a Volunteer Screening Form and return it by October 30 to Lisa Kramme at 6757 Newport Ave., Ste. 200, Omaha, NE 68152 OR lisakramme@nebraskasynod.org.
5)     If you need to request a refund, please note that the request will only be honored if emailed to Lisa Kramme by October 30.
6)     Keep the hard copy of the registration form and have it with you if you gather as a congregation group for any components of the LYON Assembly so an adult leader from your group can access it for emergency purposes.
7)     Need to make changes after you've registered online?
a)     For CANCELLATIONS, email Lisa Krammethe name of the person cancelling.  Please see information on refunds in #5 above.
b)     For ADDITIONS, simply register the person being added by October 30.  Add any new person to the "Primary Adult Leader" space on the online registration system and indicate if that person in a "Youth" or "Adult" when prompted.  The registration system requires that you enter an email for this person that is different than the email you used to initially register the Primary Adult Leader from your congregation.  
c)      If you are wanting to SUBSTITUTE one person for another, email Lisa Krammethe name of the person canceling and the name, gender, t-shirt size and special needs of the person being added and acknowledgement that their covenant and medical/photo release were signed.  Substitutions made after October 30 are not guaranteed a t-shirt. 
Downloadable Forms & Other links
Staff & Ministry Contacts:
Director of Faith Formation