Essential Boundaries for Wise Leaders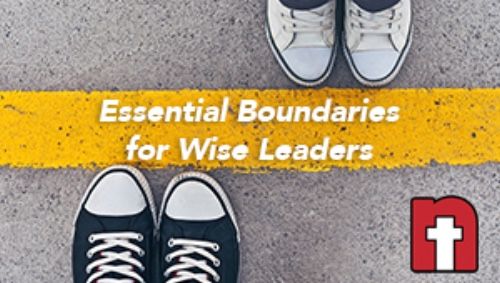 Essential Boundaries for Wise Leaders 2021
Nebraska Synod, ELCA
101 = The Basics
201 = Beyond The Basics
"As those called to leadership within the Body of Christ, we are blessed with opportunity and with responsibility." – Bishop Brian Maas
The Nebraska Synod Essential Boundaries for Wise Leaders training program for Rostered Ministers and Parish Ministry Associates (ecumenical colleagues are welcome) is designed to enrich both our opportunity and responsibility as leaders for Christ's church. More than a "boundaries workshop," Essential Boundaries for Wise Leaders benefits participants in several ways, including:
enriching your understanding of "healthy boundaries" around personal time, health and wellness
helping the Nebraska Synod continue to be a healthy body with healthy leaders
renewing your sensitivity and awareness to safe practices as a faith leader
fulfilling our shared commitment to ministry with excellence and integrity
earning six (6) continuing education credits
Expectations and Guidelines:
1)   Attend one training every 3 years from the date of the last training you completed (Attend 101 first, then 201, etc.).
      If you previously submitted an alternate training (see #7 below), going forward, please register for the Nebraska Synod's 101 version.
2)   We will note leaders' attendance and will encourage congregations and call committees to be attentive to their Rostered Ministers' and PMAs' participation.
3)   Cost for 101 varies (see rates below). 201 is $45. Financial assistance is available upon request.
4)   There are no refunds. If the event is cancelled due to weather, or you are unable to attend, the cost of registration will be applied to the next training you are able to attend.
5)   Register online at one of the links below.
6)   Registration deadline is 3 weeks in advance
7)   If you've had healthy boundaries training in the last three years outside the Nebraska Synod, and would like it considered for credit/recognition, contact Rev. Megan Morrow, megan@nebraskasynod.org. Training attendance must be documented through printed verification of registration and a certificate of completion sent to Essential Boundaries for Wise Leaders, Nebraska Synod ELCA, 6757 Newport, Suite 200, Omaha, NE 68152. You may opt for an alternative to "Essential Boundaries 101" once, but then must take 101.
8)   Participants may be up to 30 minutes late or leave no more than 30 minutes early in order to receive credit for the training.
Scheduled Trainings:
Essential Boundaries for Wise Leaders 101 – THE BASICS
April 12-13, 2021- Cancelled
Day 1- 5:00 pm check-in, Day 2 - 3:30 pm on your way
Camp Carol Joy Holling (Living Waters)
27416 Ranch Road, Ashland
Lodging, 3 meals, training = $100 solo occupancy, $50 drive-in rate (minus lodging & breakfast)
Registration Deadline: March 19, 2021
Day 1- 5:00 pm check-in, Day 2 - 3:30 pm on your way
Camp Carol Joy Holling (Living Waters)
27416 Ranch Road, Ashland
Lodging, 3 meals, training = $100 solo occupancy, $50 drive-in rate (minus lodging & breakfast)
Registration Deadline: July 30, 2021

Essential Boundaries for Wise Leaders 201 – BEYOND THE BASICS
8:30a-4:30p
Camp Carol Joy Holling, Ashland (Monke Lodge)
27416 Ranch Road, Ashland
Training, materials & Lunch = $45
Registration Deadline is March 19, 2021
8:30a-4:30p
Camp Carol Joy Holling, Ashland (Monke Lodge)
27416 Ranch Road, Ashland
Training, materials & Lunch = $45
Registration Deadline is July 30, 2021
Content Outline - based on materials from the FaithTrust Institute's "Healthy Boundaries" curriculum:
Essential Boundaries 101 – The Basics
Session I - Boundaries, Power and Vulnerability
Session II - Dating, Friendships, Dual Relationships, Gifts
Session III – Pulpit, Transference, Hugging & Touch, Intimacy
Session IV – Emerging Issues in Maintaining Healthy Boundaries
Session V – Preserving Boundaries: Personal & Professional Health
Essential Boundaries 201 – Beyond The Basics
Session I – Core Material: Review of 101 Power & Vulnerability
Session II – Core Material: Self-Care and Wellness
Session III-V – Three modules that relate to the advance questions of the registered participants (Modules you will be asked to choose from: Internet & Social Media, Personal Finances, Church Finances, Sexual Attraction, Sexual Harassment, Gender Issues, LGBTQA+, Race, Others as they are made available)
Contact for online registration questions:
Nebraska Synod of the ELCA
6757 Newport, Omaha, NE 68152
402-896-5311, office@nebraskasynod.org
Contact for all other questions:
Pastor Megan Morrow
Assistant to the Bishop, Nebraska Synod of the ELCA
2225 Washington, Lincoln, NE 68502
(402) 580-7222
megan@nebraskasynod.org
Downloadable Forms & Resources
Staff Contact: