10 Perspectives + 5 Generations + 3 Congregations > 1 Church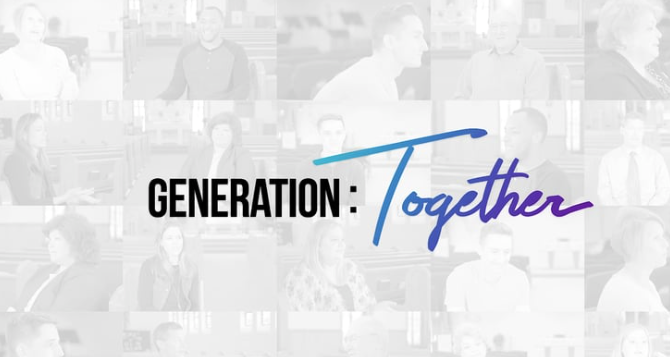 About "Generation: Together"
"Generation: Together" is a tool to help start conversations between people with different perspectives. These four, short videos feature real people sharing their own understandings and experiences as people who follow Jesus. Our hope and not-so-subtle goal with these videos is not to enlighten viewers with dazzling content (though if you're bedazzled, we'll take it!); instead, we hope that the very process of listening to and discussing differences together will help to build bridges in your community. 
The first video sets up the others, introduces the content and interviewees, and encourages viewers to "listen for understanding". Videos 2-4 show interviewees of different ages responding to questions about church, faith, community, and generational differences. Building bridges between generations happens one person at a time; we hope this tool is one you pick up and try!
This project was created by the Young Adult Working Group of the Nebraska Synod, Evangelical Lutheran Church in America, with the generous grant support of the Immanuel Vision Foundation in May 2017
Generation: Together User Guide
Media-Videos
Series Introduction
Get excited about the newest ministry resource designed to stimulate conversation across all generations on how we practice our faith, why it's important and what really matters to us all.
Volume 1: Generations
This video introduces interviewees as they discuss perceptions and misconceptions of each other's Generations.
Download Video
Resources:
User Guide - Page 2
Volume 2: Church
This video explores interviewees' understandings of Church.
Download Video
Resources:
User Guide - Page 3
Volume 3: Faith
In this video, interviewees answer questions about Faith.
Download Video
Resources:
User Guide - Page 3
Volume 4: Community
This video looks at interviewees' understandings of Community.
Download Video
Resources:
User Guide - Page 3
Tips to Get Started