The Nebraska Synod Road Show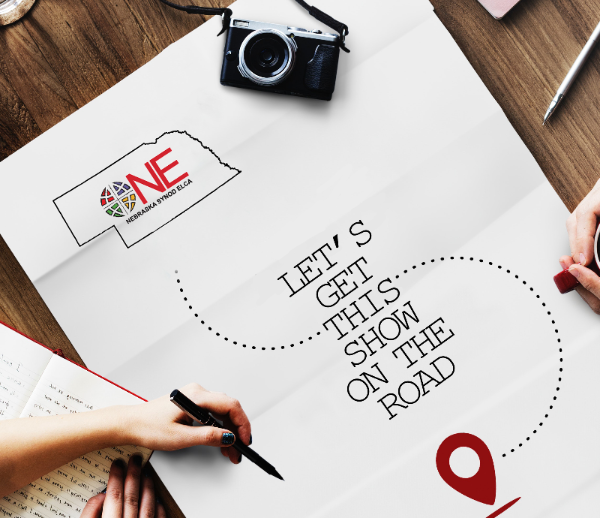 The Nebraska Synod Road Show
Schedule for Saturday October 19, 2019
St. John's United, Alliance
Walking Together: The Road Show (The Nebraska Synod World Tour)
Growing Disciples + Walking Together + Serving God's World
 
Tentative Schedule (Check back for updates)
SATURDAY October 19, 2019- Road Show #1- St John United, Alliance
8:30-9:30am Gathering of all those attending
9:30-9:40am Welcome and Centering Time-
Who we are, why we're here, and what we're going to do, and 90 second video.
9:40-9:55am Contemplative/Centering Worship Time 
Growing Disciples
10:05-11:00am Workshop Session #1*
Workshops offered during this hour: TBD
11:00-11:05am Break/Transition Time
11:05am-12:00pm Workshop Session #2* 
 Workshops Offered during this hour:TBD
Walking Together
12:00-12:50pm Lunch/Table Conversations/Idea Sharing/Fellowship Time
12:50-1:00pm Transition Time to Afternoon Rotations
1:00-1:55pm Stories to Tell- Listening to Stories
1:55-2:05pm Transition Time
Serving God's World
2:05-3:00pm Listening to Hopes
3:00-3:10pm Transition Time
3:10-3:45pm Closing Worship, Eucharist and Sending
Sunday, October 20, 2019
Available Nebraska Synod Staff & Synod Council Members will be attending Sunday worship at area congregations (Tumbleweed and Panhandle Clusters). For inquiries about synod staff or council members attending your congregation, please email communications@nebraskasynod.org.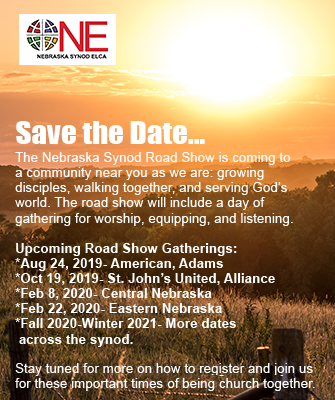 The next Road Show will be at Messiah, Grand Island on February 8, 2020. 
Check back for details and registration link.
Links