2017 Nebraska Synod LutherLand Trip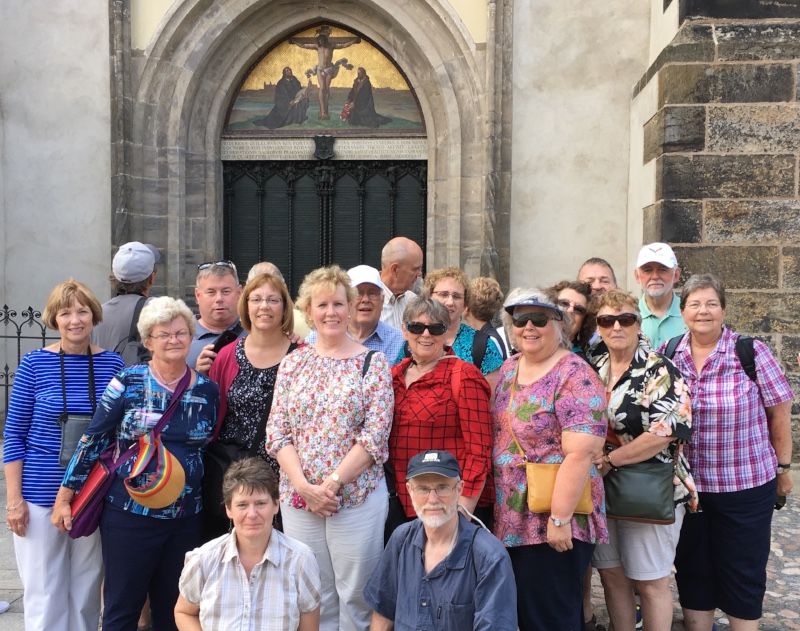 Come walk in Martin Luther's footsteps and experience Germany this coming July!
The Nebraska Synod is partnering with Global Travel Alliance to offer an eight-day trip to Germany to commemorate the 500th anniversary of the Reformation. This trip, scheduled for July 14-21, 2017, is a private group travel experience for members and guests of the Nebraska Synod.
Martin Luther and Reformation history sites are the sole focus of this tour and the eight-day format means less time away from work (six weekdays) for folks with limited vacation or travel time. In Germany, the trip is structured so that together we experience at least one major Reformation site each morning and afternoon, while providing you with free time to explore even more Reformation sites and their communities on your own. Many evenings are also free so that you can explore those things that speak to your Lutheran heart or cultural curiosity, or get to know other pilgrimage makers from around the world who are converging on Germany this summer.
Schedule
July 14:  Travel to Germany
July 15:  Frankfurt-Worms
Arrive in Frankfurt and transfer to Worms, one of the oldest cities in Germany and home of the world's largest Reformation memorial. Luther defended ("Here I stand…") his 95 Theses before the Diet (assembly) of Holy Roman Emperor Charles V in April 1521. Walking tour to see all the sights related to Luther. Welcome dinner and overnight in Worms.
July 16:  Worms – Eisenach
Morning in Worms with midday travel to Eisenach. Upon arrival enjoy a city tour including the market square followed by Wartburg Castle, a UNESCO World Heritage Site, and see where Luther completed translating the Bible into German.
July 17:  Eisenach – Erfurt
A relaxing morning in Eisenach with a visit to the Lutherhaus Museum in Eisenach located in the house of the Cotta family, where Luther lived during his schooldays. Travel to Erfurt in the late afternoon. Traditional dinner.
July 18: Erfurt
In Erfurt, Luther obtained his doctorate in philosophy in 1505 and took the decisive step to turn to theology and the monastic life. Our walking city tour includes a visit to St. Mary's Cathedral where Luther was ordained as a priest, and we'll stroll across the Medieval Kramer Bridge. Afternoon visit to the Augustinian Monastery where Martin Luther first dedicated his life to God, joining the order as a monk in July 1505.
July 19: Eisleben
Today, we will spend our day in Luther's home town; the homes where he was born and died and very engaging history centers. The town of Eisleben is a charming town that has carefully preserved this special heritage and is also known as Lutherstadt-Eisleben, or Luther City – Eisleben.
July 20: Wittenberg
The site where Luther nailed the 95 Theses to the door of All Saints', the castle church, marking the beginning of the Reformation. We will visit All Saints Church, St. Mary's Church, where Luther preached and the extensive Lutherhaus, where Luther lived and worked during the Reformation.
July 21:  Travel to the USA after an amazing week of experiencing the world and heritage of Martin Luther.
Group Size
Minimum of 15, and capped at 40 guests to maintain a greater amount of intimacy.  
What's Included?
The package includes air travel, accommodations, ground travel (motor coach) in Germany, 24-hour guide/tour escort, all activities list on the proposed itinerary below as well as breakfast daily. Should any travelers wish to provide their own air travel via airline miles programs or similar, Global Travel Alliance will give the traveler a flat 25 percent discount off of the package price. The travelers are then responsible for joining the group.  
What's not included?
Alcoholic beverages, meals other than specified, taxis or other incidental costs incurred while away from the group. Tipping is limited in Germany though tips are customary for both the professional guide and the driver. 
Who are our guides?
Brian Mathis, an experienced and professional guide with Global Travel Alliance who lives in Billings, Montana. Pastor Steve Meysing, our synod's assistant to the bishop based in North Platte, who has lead two previous trips to Germany. Both Brian and Steve speak German.
With whom are we contracting?
Though Global Travel Alliance is making this agreement with the Nebraska Synod, the individual contracts are between the travelers and Global Travel Alliance. All payments and billing issues are between the individual travelers and Global Travel Alliance. Global Travel Alliance handled the Reformation anniversary trips to Germany for Montana and other ELCA synods, and we relate to their office in Billings, Montana.
Cost and Registration
$3,950 per person. ($100 discount for early sign up by Dec. 15, 2016.)
Land-only option: If you wish to arrange your own airfare, Global Travel Alliance will discount the package cost 25 percent (with early sign up discount or at full price).
Optional air: With this trip you can depart from Denver and Omaha. Omaha may have a surcharge (estimated at $275-345). Travelers may choose to purchase their own flights to Denver, apart from Global Travel Alliance.
Optional trip protection plan: $214.
Deadline to register: Sunday, Jan. 15, 2017.
To register, download the complete the forms below. For more information about the trip, please contact:
Registration Forms: