SPIRE TO PERFORM BACH MASS IN B MINOR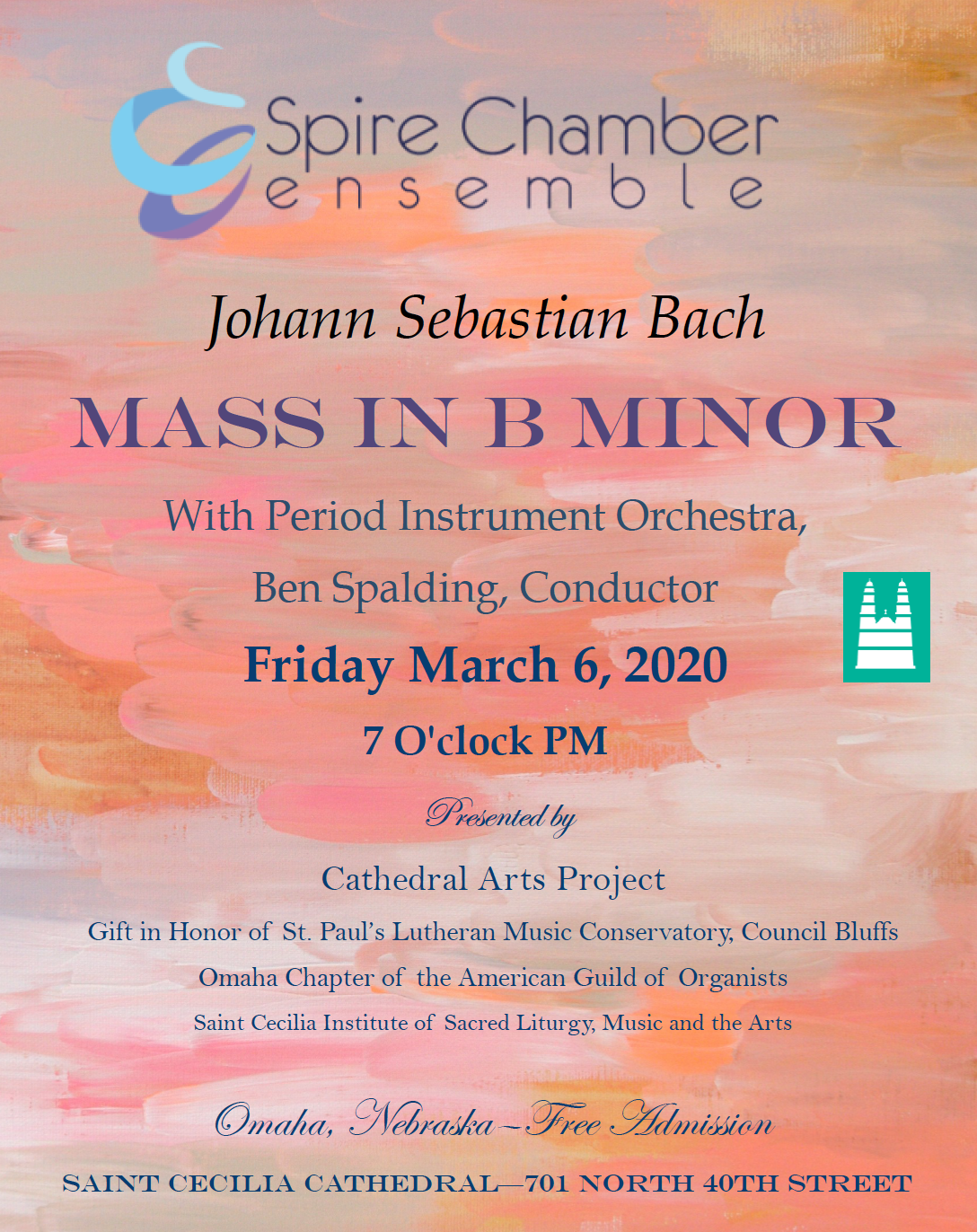 A special invitation is extended to Churches in the Nebraska Synod ELCA to attend Johann Sebastian Bach's masterpiece, Mass in B Minor in Omaha, at Saint Cecilia Cathedral at 701 North 40th Street.
The Spire Chamber Ensemble, under the baton of Founder and Artistic Director Ben A. Spalding, will perform the Bach Mass in B Minor on Friday, March 6, from 7-9 p.m., at St. Cecilia Cathedral. The concert is free and open to the public. "Spire's repertoire ranges from Baroque and Classical works with period instruments to work by contemporary composers," said Marie Rubis Bauer, Omaha Archdiocesan director of music and Cathedral organist. "This will be a world-class treat for music lovers – not to be missed." Now in their 10th season, Spire is one of the preeminent choral-orchestral chamber ensembles in the United States. The virtuoso choir and orchestra of distinctive solo artists are committed to the highest level of ensemble performance. These musicians travel to Kansas City to perform together, providing audiences with a rare level of choral music-making found elsewhere in the country. The Spire Baroque Orchestra features the finest historical players and joins these world-class singers for concerts. "Johann Sebastian Bach was the consummate master of polyphony or 'many voices' — this serves as the catalyst for all my own musical exploration," said Spalding. Bach's extraordinary imagination in his B Minor Mass provides inspiration and a framework for the most remarkable musical allegory of human existence – its pain, aspiration, and promises." An active composer, Spalding is gaining a national reputation for excellence in choral performance particularly of the music of Bach. A special connection for Lutheran musicians, is that Spalding is director of Music and the Arts at Trinity Lutheran
Church in Mission, KS, leading the music ministry there, and where he has built a sacred concert series including the regular performance of Bach's sacred cantatas in the Kansas City area.