National Day of Prayer: Nebraska Prayer Breakfast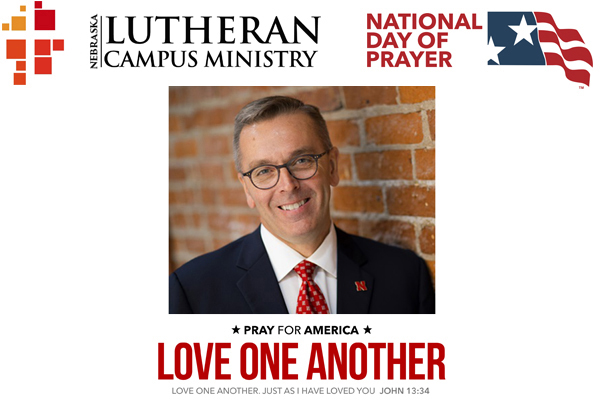 Nebraska Lutheran Campus Ministry in partnership with Sheridan Lutheran Church in Lincoln will host a prayer breakfast on the National Day of Prayer, Thursday, May 2, 2019. The event will take place at Sheridan Lutheran Church, located at 6955 Old Cheney Rd in Lincoln. Doors open and breakfast will be served at 6:30am. Program and remarks by UNL Chancellor Ronnie Green will begin at 7am. Individual tickets are $25 with advanced purchase, and $40 at the door.
This year's National Day of Prayer is "Love One Another".
We are a country today that is in tremendous need of this love. We need a baptism of love by the Holy Spirit that will immerse the entire Church. We need a baptism of love that will immerse all of our nation today. From the church house to the state house, and all the way to the White House, we need to learn to love one another.
It is this love that distinguishes and sets us apart. It is the transforming power in all relationships. And that transforming power can occur in all relationships because of the power of love. This is our message. This is what we will declare. This is what we will advance. This is the very message of Jesus—"Love one another, just as I have loved you!"
Table reservations for up to 8 are available for $175. Event will have open seating. Sponsorship tables, including a Logo in the event program & priority seating are also available for $350.
Ronnie Green is the 20th Chancellor of the University of Nebraska–Lincoln. He has been Chancellor since May 2016.
Green has served as executive secretary of the White House's interagency working group on animal genomics within the National Science and Technology Council. Prior to returning to the University of Nebraska, he served as senior global director of technical services for Pfizer Animal Health's (now Zoetis) animal genomics business. Dr. Green and his wife Jane are members of Sheridan Lutheran Church.