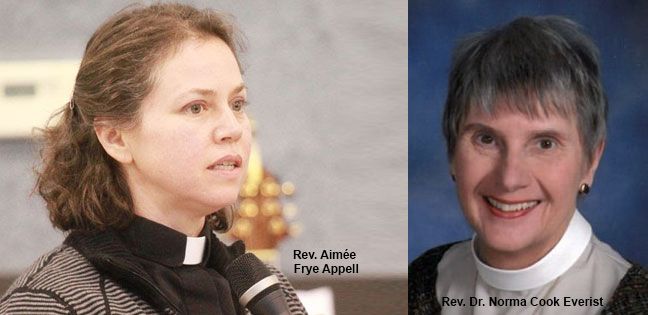 This event is open to all Nebraska Synod Rostered Ministers, PMAs, PMA students and Nebraska Synod Candidates.
At a time when it seems almost everything can lead to contention (face masks, BLM, social distancing, the election, finances, the gospel as 'too political…'), we who are called to lead in the church are still bold to pray the Prayer of St Francis: "Lord, make me an instrument of your peace." Learn some key strategies to live into that prayer through an online workshop on Thursday, October 8, 9am – 2:30pm, as Rev. Dr. Norma Cook Everist and Rev. Aimée Frye Appell share strategies for dealing with contention and for preaching in conflicted times. 
Workshop Schedule:
9a – 11:45a "From Contention to Collaboration: Renewing a Spirit of Trust in Challenging Times"
Teaching Theologian Rev. Dr. Norma Cook Everist
Rev. Dr. Norma Cook Everist, Distinguished Professor of Church and Ministry, emerita, Wartburg Theological Seminary. 
Dr. Everist fosters learning communities of shared power and partnership. She is a widely known presenter and author of many books, five of which are:
Church Conflict: From Contention to Collaboration (Abingdon)
Transforming Leadership (with Craig Nessan) (Fortress)
Open the Doors and See All the People (Augsburg/Fortress)
The Church as Learning Community (Abingdon)
Seventy Images of Grace in the Epistles (Wipf and Stock)
All of these books are available in print or electronically.
Connect with Dr. Cook Everist's blog and other resources via https://www.wartburgseminary.edu/staff/rev-dr-norma-cook-everist/
11:45a – 12:30p Break for lunch
12:30p – 2:30p "Preaching and Teaching about Racism in White Spaces"
Rev. Aimée Frye Appell holds a M.Div. degree from Luther Seminary in St. Paul, MN, and serves Peace Lutheran Church in Washington, MO. She has lived and worked in Washington, D.C., Seattle, Anchorage, St. Paul, and Provo, UT.
Pastor Aimée is the Chairperson of Neighbor's United - Undoing Racism (NUUR), a grass-roots organization that educates, advocates, and builds relationships across racial lines in rural Franklin County, MO. With her congregation and NUUR, she has spearheaded several initiatives to build inclusion and dialogue in her community, including Vacation Culture School, Stories Matter, a local Juneteenth celebration, and community book discussions. In 2017, she received the Humanitarian Award from Church Women United of Franklin County. In 2018, she and her congregation received the Clergy Renewal Grant from the Lilly Foundation.
After sabbatical with her family in South Africa and France, Pastor Aimée began working on a Doctor of Ministry degree at Columbia Theological Seminary in Decatur, GA, with plans to graduate in 2023. In addition, she is currently working with the City of Washington to develop a Community Relations Committee, with the goal of building and nurturing inclusive community as their regional demographics change.
When not focusing on her call, she can be found spending time with family, knitting, reading, or gardening. Mother to three wonderful children – Elinor, Holden, and Grace (as well as three dogs, two cats, and a snake), she and husband Nelson have been married since March, 2000.