Event
Bible 101
Four 60 minute sessions
7:00 pm
Sunday, October 03 to Sunday, October 03
Online
7:00 pm
Sunday, October 10 to Sunday, October 10
Online
7:00 pm
Sunday, October 17 to Sunday, October 17
Online
7:00 pm
Sunday, October 24 to Sunday, October 24
Online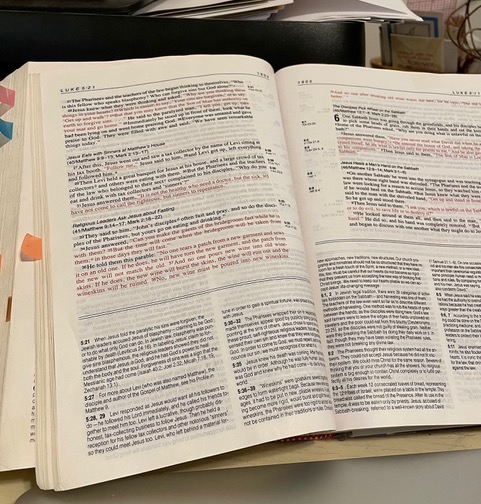 Ever wonder how the Bible came to be? What about all the different translations and some Bibles even have different books? And what is even in the Bible? The stories and writings in the Bible can seem strange and very disjointed. In 4 sessions, we will explore these questions and more. Participants will walk away knowing more about the history of the Bible, how Christians and specifically Lutherans approach the Bible and how the 5 c's of the Bible (creation, curved in, covenant, Christ, and church) make up the big story that we all are wrapped in today.
Session 1: What's in the Bible?
Session 2: How did we get the Bible?
Session 3: How do I read the Bible?
Session 4: What does the Bible have to do with me?
This course is open to all. Specifically for people who know the Bible is important to Christianity but aren't really sure why, people who have questions about the Bible, people who remember learning about the Bible in Sunday School or confirmation but don't remember what they learned, people who want to deepen their faith and know that this book seems to be central to that task but don't know where to start.
Materials – Bring your favorite Bible. The Lutheran Study Bible is a great choice if you don't have a Bible or are looking for a good study Bible. https://www.amazon.com/Lutheran-Bible-NRSV-Augsburg-Fortress-Publishing/dp/0806680601/ref=pd_lpo_2?pd_rd_i=0806680601&psc=1
Instructor:
Deacon Claire Meyer has served in small, medium and large congregations for over 15 years  in faith formation and loves to bring the Bible alive for people. She is rostered as a Deacon and is currently pursuing ordination in Word and Sacrament ministry.  The amazing library of books that we call the Bible is God's love letter to us and Claire enjoys handing people the keys to unlock it's message for us. She has worked with babies to those in their 90's and believes this is a book that has a message for everyone.
Format:
Online Zoom using Zoom platform – Links will be sent with registration confirmation
Course size – -minimum 8
4 sessions 60 minutes each
Sunday Oct 3 @ 7- 8:00pm Central/6:00-7:00 Mountain
Sunday Oct 10 @ 7- 8:00pm Central/6:00-7:00 Mountain
Sunday Oct 17 @ 7- 8:00pm Central/6:00-7:00 Mountain
Sunday Oct 24 @ 7- 8:00pm Central/6:00-7:00 Mountain
Costs:
Registration deadline – September 26, 2021
$10/person – Non-refundable Registration Fee
$20/person – Course Fee – Cancelation deadline – September 26, 2021
Register Here – Registration deadline September 26,2021
Contact: Deacon Sunni Richardson, Director for Leadership Development
Return to Calendar