Ten new spiritual directors certified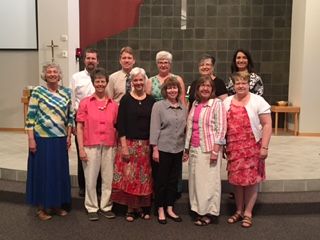 Seeking the Spirit Within, the Nebraska Synod's spiritual direction institute, certified 10 new spiritual directors at a ceremony June 6.
The following individuals successfully completed the two-year program and received their certification: Vicki Schleifer Buras, Omaha; Deb Gray, Omaha; Ellen Keenan, Omaha; Jody Kollath, Omaha; Glenda Dietrich Moore, Lincoln; Debra Rippe, Bruning; Patrick Sipes, Byron; Timothy Stadem, Alliance; Terri Storer, Lincoln; Ann Sundberg, Chadron
Applications for the 2016-18 cohort will be received until June 22, 2016. For more information, visit Seeking the Spirit Within or contact Connie Stover.