We are church...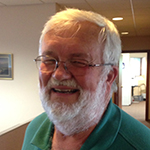 Some mornings I wake up in awe thinking what a wonderful privilege I have been given to serve the Synod in northeast Nebraska. For all of the hard work and disappointments, the joys of being with God's people is so much greater.
In three years of serving the Synod, I have come to see the depth of the statement, "We Are Church." Sometimes it easy to be shifted off track by the bad news—declining attendance, aging congregations, shortage of pastors, and declining finances—it shifts us away from the great news that we are church. Here are some things I am finding to still be true about the church.
Worship and preaching are still central to God's people. Leading worship in various congregations, I find people committed to worship and hungry to hear God's Word, week in and week out.
Congregational ministry is more than what the pastor does. Committed people give hours of their time to keep their congregations vital and alive within and without.
Congregations are looking outside the four walls to opportunities to share God's love. Many congregations host food pantries or work with other congregations to feed those in need. Congregations do fundraisers, not for the budget, but for charitable agencies that help people. And all that, I think, is but the tip of the iceberg of what congregations are involved in in ministry.
Let me share one story that moved me to tears. One of the congregations I work with has a food pantry to help people on a daily basis. In addition to that, twice a month they host a food bank that ministers to scores of people. Now here's the touching part. One day during the food bank, they provided food for a family in need and the mother asked about where they could go for clothes. After suggesting, Goodwill or Salvation Army, the volunteers realized that this family may be so poor that they could not even afford clothes there. It just so happened that the church was accumulating clothes for a rummage sale to help their budget. So, the volunteers took the mother back to the room with the clothes and let her find what she needed. That's the spirit of God's people—in doing ministry we find other ways to reach out. Now here's the closer: that congregation is now considering offering a clothes closet along with the food bank.
We are Church! The spirit of Jesus' call to share his love in the world is alive and well.