Celebrating 500 Plus Years of Living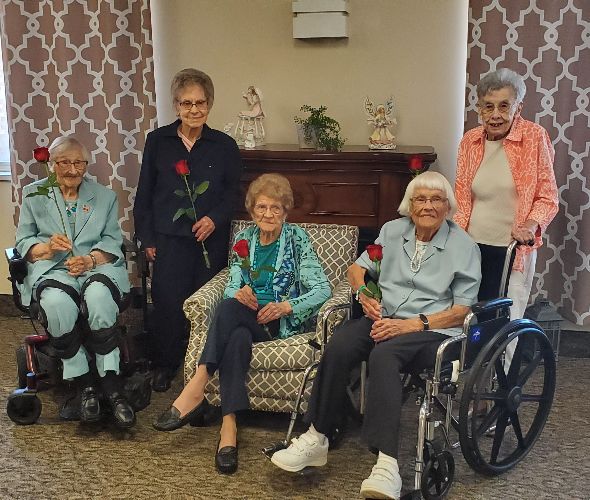 On Friday, September 6ththese very special ladies of Our Savior Lutheran Church, Wayne, Nebraska gathered for a historical picture.  Pictured left to right with age on their birthdate in 2019: Eveline Thompson (9/24/1918 - 101) lives with her son in their home here in Wayne; Lydia Thomsen (9/3/1915 - 104) lives in her own home here in Wayne; Doris Lutt (7/21/1916 - 103) is a resident of Wayne Countryview Care and Rehabilitation; Helga Nedergaard (12/11/1919 - 100) a resident of Wayne Countryview and standing, Ruby Nelson (6/30/1919 - 100) a resident of Brookdale Wayne Retirement & Assisted Living Facility.
Wayne has been their home for most of their life, living a faith filled life, have given so much to the Wayne community and greatly respected by all.  When five fabulous ladies have reached the age of 100 and even more for some, in the same congregation, it is reason to celebrate.  Each was presented a red rose, compliments of Lou Wiltse of the Wayne Greenhouse.