Leadership Devotion - February 2016 - Road Signs
The season of Lent is always a call to repent. We hear John the Baptist proclaiming repent and Isaiah calling us to prepare the way, make straight the roads and prepare for the Lord. We know Lent is about preparing, repenting and getting ready for Holy Week and Easter.
But truth be known, I pretty much fail at Lent. I think of Lent like New Year's resolutions – which by the way, I usually fail at them, too. I know repent means to express regret, be conscience-stricken, feel self-reproach or turn around. But when it comes to giving up things or actually turning around, I get stuck. As a church leader, you would think I would have the "give up chocolate or Diet Coke" routine down to a science. But I'm a problem solver and an adapter and I'm not good at giving up (heavy sigh and silence…).
I am, however, pretty good at taking photos. I love driving down the road and suddenly right in front of me I see a sign from God. And, sometimes that "sign" is literally a sign – a road sign! Such was the case a few weeks back when driving the country roads looking for a good photo opportunity.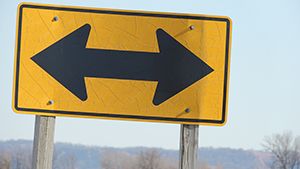 Right there in front of me was God telling me to take Lent seriously. It wasn't a dead end sign.
Instead it said to me – "Choose? Choose which way will you go? There's more than one way to go, but you have to choose. Are you going to take Lent seriously or just brush it off?" Right there at that stop sign, I found myself repeating the words of Isaiah 30:20-21 – "Although the Lord gives you the bread of adversity and the water of affliction, your teachers will be hidden no more; with your own eyes you will see them. Whether you turn to the right or to the left, your ears will hear a voice behind you, saying, 'This is the way; walk in it.'"(NIV)
Bingo!
A sign from God and from that a new look at Lent. I now see Lent as a time to regroup. There are things I can give up and need to. There are also things I need to add to my daily routine. There will be challenges and adversity but God will be there. The key is taking time during the season of Lent for listening, praying, reflecting and regrouping. I now use Lent as a time of discernment. It is a time to regroup, identify places where I need to make a change and a time to focus on my life as a growing disciple.
Oh my, I needed that sign. Perhaps you are in the same spot. Perhaps you need a sign to help you discern the meaning of Lent and find a new way to live it, without feeling like a failure. My prayer is to each day find a project, place or a person that needs my attention and deliberately choose to regroup. That will take a lot of prayer, listening and patience but with God's help and God's grace, I just might learn how to do this thing called Lent.
Prayers as you journey through the season of Lent.
Sunni Richardson is a member of the Nebraska Synod Leadership Development Table and an Associate in Ministry. She is serving as Director of Discipleship at First Lutheran Church in Lincoln, Nebraska.