World Hunger News: Meet Jenny Sharrick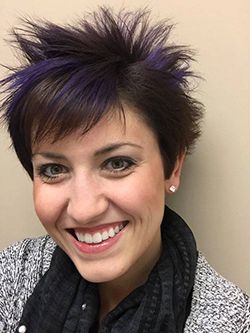 Nebraska Synod Hunger Leader,
I am so incredibly thrilled to begin my tenure as the Nebraska Synod Hunger Network chair. Although I have met many of you over the past four years of involvement with the network, there are many others of you who I hope to meet soon.
I am a Hastings native and recent graduate from the University of Nebraska Medical Center's College of Public Health. I now work in Council Bluffs supervising maternal, child, and adolescent health services for two counties in Iowa. Though my work is currently taking me across state lines, much of my research for my masters was focused on rural hunger and poverty in Nebraska—a cause to which I will always be committed!
There are many exciting things coming down the pipeline in the Nebraska Synod Hunger Network to watch for:
"Committee" to "Network" Transition—Traditionally a small, dedicated committee oversaw the anti-hunger work in the Nebraska Synod, while we will continue being directed by a steering committee, we are changing leadership models towards becoming a "hunger network." What does this mean? It means that you will become increasingly integral to the strategic plan of how we reduce food insecurity across the state. You all are the experts on the face of hunger in your communities and are the best advocates in your congregations for this ministry. Your leadership in the local area is invaluable and we want to better support, utilize, celebrate, and highlight your talents through the hunger network model. 
Buck the Trend—Keep your eyes out for a new resource to use with your youth, young adult, and adult groups on fighting hunger and poverty in Nebraska. Buck the Trend will be mailed to you and your congregational leaders after the beginning of the new year.
Souper Bowl—While your favorite teams are tackling each other at the Super Bowl on Sunday, Feb. 5, you can be tackling hunger and poverty in your community! Hold a food drive, money collection, or freewill offering soup supper for your local feeding programs in the weeks leading up to the big game. Please let us know if you're participating in any way in the Souper Bowl, so we can tally the collective impact of Nebraskans committed to ending hunger on Feb. 5!
There are also resources coming from ELCA World Hunger in Chicago including an Advent calendar and Bible study in both English and Spanish, Good Gifts catalogues, and a map of all locations across the globe that are affected by ELCA World Hunger. At the risk of self-promotion, I also wanted to let you know that there is a recently released toolkit on the intersection of gender and poverty that I helped to create with several other young adult hunger leaders across the United States. All of these resources can be found on the ELCA World Hunger resources website.
We were also busy this past year with hosting a Walk for Water at the synod assembly ministry fair. There were over 300 participants who experienced what it is like for women in Sub-Saharan Africa and others across the world to find access to clean and safe water. Additionally, we continue to offer mini grants through the One Another granting program to help financially support and undergird local hunger relief efforts across the state. The next round of grant funding will open up during Spring 2017.
If there are others in your churches, communities, social networks and families who are committed to ending hunger in Nebraska who did not receive this letter but should, please encourage them to sign up for our network by signing up for the Sharing the Harvest newsletter via the NebraskaSynod.org or by e-mailing me. If there is interest in your congregation to hear more about ELCA World Hunger and the work we are doing in Nebraska to end hunger, please contact me about doing a temple talk, adult forum or children's education hour.
I look forward to all that we will accomplish together!
In peace,
Jenny Sharrick
Nebraska Synod Hunger Network Chair
jennifer.sharrick@gmail.com