Embracing Stewardship-for all seasons across all generations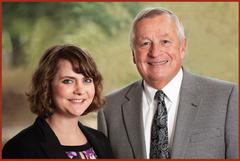 Stewardship is something that is much bigger than we usually let it be. It's part of our identity as Children of God- no matter our age, experience, story, the day or month of the year, or even our location. Together we'll unpack this and much more at "Embracing Stewardship- for all seasons across all generations," a one-day stewardship workshop on Friday May 18, 2018. The workshop will run from 9am-3:30pm at Camp Carol Joy Holling in Ashland, Nebraska.
Keynote presenters will be Rev. Charles (Chick) Lane and Mrs. Grace Duddy Pomroy, co-authors of Embracing Stewardship: How to put stewardship at the heart of your congregation's life. Other works that they have written include: Ask, Thank, Tell: Improving Stewardship Ministry in Your Congregation, by Chick Lane; and "Stewards of God's Love," an ELCA churchwide resource written by Grace Pomroy. Deacon Timothy Siburg, Nebraska Synod director for Stewardship, and Bishop Brian Maas, of the Nebraska Synod will also be present to host and help facilitate the day, and partake in a time of panel conversation, questions, and discussion.
This event is open to everyone- rostered ministers, parish ministry associates, and any congregational stewardship leaders in the Nebraska Synod, and neighboring synods. Additional special emphasis and attention will be given to those serving in their first calls in ministry. Capacity for the event is limited to 80 people, so please register early.
Lunch and the cost of registration for the workshop will be provided. Additional resources will be available for purchase at reduced rates. There will also be opportunity for on-going mentoring and conversation with stewardship leaders after the event to track progress on stewardship in your context.
If you have any questions about this stewardship event, please contact Deacon Timothy Siburg at the Nebraska Synod Office.
Also, if you will be traveling a distance and needing housing, or, if planning to also attend a Portico Retirement Benefits Seminar on Thursday May 17, 2018, there is availability to stay overnight at camp. To make those arrangements and reservations, please contact Camp Carol Joy Holling.