Strategic Mission & Vision Plan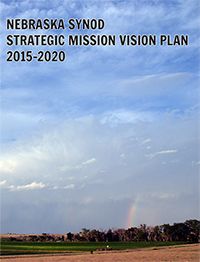 In December 2013, the Nebraska Synod Council engaged in a new strategic mission visioning process in order to chart the mission and ministry of the Synod over the next four to five years. It was further determined to continue with the current mission statement and that the primary focus is to be on strategic vision, strategies and goals. The result is the 2015-2020 Nebraska Synod Strategic Mission Vision Plan, a vision and set of strategies and goals intended to guide and inspire the ministries of the Nebraska Synod.
Strategic Mission Vision Plan (2015-2020)
Staff Contact:
Strategic Mission Vision Oversight Team
Chairperson: Rev. Sarah Cordray, Syracuse.
Members: Rev. Greg Berger, Ralston; Rev. Sheryl Kester Beyer, Scottsbluff; Rev. Alison Siburg, Salem/Fontanelle.