Governance Documents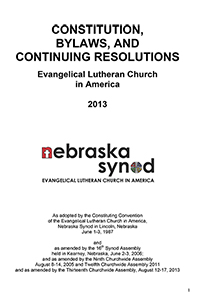 The Nebraska Synod, as part of the Evangelical Lutheran Church in America, is governed in legal and procedural matters by the Churchwide Constitution and Bylaws, as well as the Synod's Constitution and Bylaws.
Proposed amendments to congregational constitutions require approval fo the Nebraska Synod Council, based on the recommendation of the Synod Attorney.  Congregations wishing to amend their constitution are to do the following:
-Contact Synod Attorney, Bill Biggs at:  bbiggs@grosswelch.com
-Also contact Diane Harpster in the Bishop's office:  diane@nebraskasynod.org
-Send a copy of the working document to both e-mail addresses above.
-The Synod Attorney from the beginning of the process will ensure that the proposed changes conform with the ELCA and Synod constitutions as well as the  ELCA Model Constitution for Congregations.  
-Once the constitution has been approved by the Synod Attorney, the congregation votes on the document.
-Congregation notifies the bishop's office (diane@nebraskasynod.org) that the congregation has voted to approve the constitution.
-Synod Council receives the constitution approved by the congregation and votes to approve at one of their quarterly meetings.
-Bishop's office notifies the congregation of the Synod Council's action and copies of the updated constitution are kept on file at the Synod office.
Copies of the Nebraska Synod's governing documents are available below:
ELCA Constitution & Bylaws (November 2017)
Nebraska Synod Constitution & Bylaws (2017)
Model Constitution for Congregations (2016)
Other Documents
Staff Contacts:
Administrative Assistant to the Bishop