Holy Land Accompaniment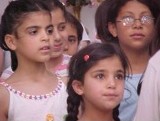 The Nebraska Synod continues our journey of accompaniment with our Christian brothers and sisters in the Evangelical Lutheran Church in Jordan and the Holy Land (The ELCJHL). This accompaniment is an extension of the three trips members of the Synod have made to the Holy Land over the past six years.
The Nebraska Synod Holy Land Accompaniment (NSHLA) offers various opportunities to be in partnership with the ELCJHL, including accompaniment trips and educational programming.
SAVE THE DATES! NSHLA is happy to announce that a fourth trip is planned for April 15-27, 2018. This journey will be similar to those taken in 2011, 2012 and 2014 to Modern Palestine (the West Bank), Israel and Jordan, with an emphasis on meeting our Lutheran family in the ELCJHL in Palestine and Jordan. We will see many of the holy and historic sites as well as learn more about the current situation for both Palestinians and Israelis. The early plans include a visit to Petra in Jordan and the opportunity to visit Yad Vashem, the Israeli holocaust museum in West Jerusalem. 
For more information on the group's activities, please contact one of the staff below.
Resources:
Staff & Ministry Contacts:
Administrator for Finance & Development