A Letter from Bishop Maas Regarding the Orlando Shootings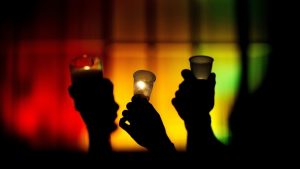 Greetings in the name of Jesus Christ, crucified and risen for the sake of the world.
Today, June 17, 2016, marks the fifth day since the horror of the Orlando shootings. It is also the one year anniversary of the shootings at Emmanuel AME Church in Charleston.
I am writing today to urge members and congregations of the Nebraska Synod to pray for God's peace and healing for the victims of both of these tragedies, for their loved ones, and all whose lives are impacted as a consequence of them.
I am also urging that we act to confront the evils that led to and arise from this tragedy, by committing ourselves to conversation, advocacy and action:
To end the tolerance of exclusion, persecution and violence against members of the LGBTQ community
To confront the reality of racism by working to end our own complicity in it, and dismantling the structures and policies that perpetuate it
To demand action to address the scourge of gun violence across our nation. This isn't about gun rights versus gun control; it's about us as faithful and civilized people seeking compromise and solutions to prevent more senseless slaughter
To avoid demonizing whole categories of people, especially those whose practice of their Muslim faith is wholly at odds with the radicalized violence of a few
Most importantly, to overcome the spirit of division and antagonism that undermines our communities, threatens our well-being, and prevents reasoned dialog and reasonable solutions.
We are called to better than this.
As servants of the Prince of Peace – himself a victim of prejudice, hatred and violent death—we are called to commit ourselves and call on others to be in conversation with legislators, community leaders and one another, united in the common goal that we never again witness such horrors nor tolerate the evils that spawn them.
I am asking that you join with me in offering this prayer, individually and in our congregations, in the days to come: "Everlasting God, source of life and creator of all; we confess that ours is a broken world, and that we too often focus on its fractures and in our fear seek others to blame. Grant us the grace to admit and repent of our own divisive attitudes and behaviors, and the courage to follow you in the work of healing wounds and binding up the broken. Bless with wholeness all whose lives are touched or torn by senseless violence. Transform and straighten those whose hearts are twisted with hatred. Stretch us beyond our fears in embracing all whom you have created in your image, following the example of Jesus Christ, whose arms were stretched in death for the life of the world. In His name we pray. Amen."
Yours in Christ,
Brian Maas
Bishop
Nebraska Synod ELCA